OpenThread released by Google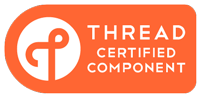 OpenThread released by Google has been certified as a Thread Certified Component on the following platforms:
OpenThread's Thread Reference releases are available on GitHub, some of which are included with the GRL Thread Test Harness.
OT Thread Certificate OT Thread Reference Releases
API documentation is available for the following Reference releases:
2017-07-16 C API Reference 2018-06-19 C API Reference 2019-11-13 C API Reference
OpenThread Border Router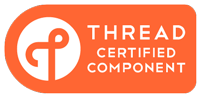 OpenThread Border Router (OTBR) has been certified as a Thread Certified Component on the Raspberry Pi 3B with a Nordic Semiconductor nRF52840 NCP.
OTBR was certified using the following releases and commits:
OTBR Thread Certificate
OTBR Thread Certification Release
To use the complete certification environment for OTBR, specify thewpantund commit as part of the OTBR setup process:

WPANTUND_COMMIT=8c189c6 ./script/setup

Certify with OpenThread
Other platforms running OpenThread, including NCP designs, can be certified as Thread Certified Components. OpenThread can also be used for a product certification, which carries the "Built on Thread" badge.
For more information about the difference between Thread and OpenThread as it relates to certification, see the Thread Group FAQ.
Why certify?
Certification indicates to customers that your product is fully Thread compliant, and that it works with other Thread products. Product certification is required to ship a product based on OpenThread, and to claim that a product supports Thread.
Certifying a product running OpenThread provides an added benefit, given that OpenThread itself is a Thread Certified Component. Certification time and costs are generally reduced, as the Thread Group's test houses are already familiar with OpenThread as a reference stack.
Testing
Certification testing is done with the GRL Thread Test Harness, available for download to Thread member companies. To increase the likelihood of a successful Thread certification using OpenThread, we recommend running and passing all certification tests in a local setup prior to submission to the Thread Group.